Yes, Gillian who is Mariahs biggest fan in Barbados tells me Mariah has spent a 2 days minivacation there with Luis! Here is from the newspaper Barbados Daily Nation:
Mariah Carey's Bajan Holiday -
Saturday-14-October-2000
by Hayden Boyce

Singing sensation Mariah Carey left Barbados last night after two days of relaxation.

Sporting a white swimsuit with a matching silk sarong, the smiling 28-year-old left in her private jet for St. Maarten where she will film part of a music video.

Carey's Barbados vacation started Thursday with a West Coast cruise on the catamaran Vahine, which is managed and skippered by Nick Parker. She later had dinner at The Cliff, Paynes Bay, St. James, then slept for most of yesterday before having a massage and a late afternoon swim.

Yesterday, the songstress also visited Eddy Grant's Blue Wave studios where she intends to record in the near future.

Carey stayed at Glitter Bay Hotel, St. James, and her arrival and departure arrangements were done by Platinum Services.

Describing Barbados as a "beautiful place", she said she "had a good time and enjoyed the beaches".

Before coming to Barbados, she was in New York where she completed a movie, All That Glitters.
***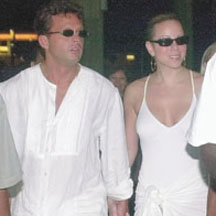 Mariah and spanish superstar Luis Miguel in Barbados, Grantley Adams Interntional Airport.