Please visit my sponsor above!!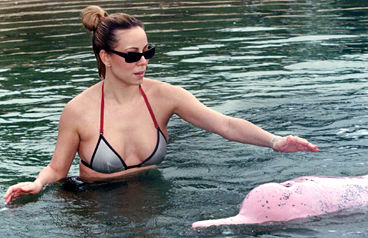 Mariah Carey takes a swim with the dolphins!
Popstar Mariah closed her Asian-tour in her own special way, she took a swim with the dolphins, especially with the pink dolphin Jumbo, 200 kg heavy, in a dolphinlagoon in Singapore. Jumbo kindly helps Mariah around in the water. Wearing a minimal bikini and sunglasses the superstar posed in front of photographers on Sentosa Island yesterday. After having made aquintance with dolphin Jumbo Mariah Carey throw herself in the water and the 200 kilo heavy dolphin didn't seem to mind dragging the diva through the water in the lagoon. They both seemed pleased with the experience. Carey was met by houndreds of screaming fans when she arrived in Singapore on Sunday for the last concert on her Asian-tour. After the performance she returned to the hotel, and only a few hours later she showed up in the dolphin-pool. Today monday, Mariah Carey returns to USA where Chicago is next in line to hear her voice.