Tuesday, September 19 - 2000
Various news

Now I've got 47 songs for the MariahVision song contest, thanx to everyone who sent in! The contest will close in a few days so if you want to send a song you have to hurry! Visit the contest site to listen to all the 47 songs.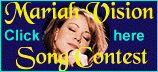 Phoenix writes:
***
Hi all. I'm not sure if anyone told you this news or not, but in that wonderful new film "Nurse Betty" starring Rene Zeilweiger, there is a great supporting actress whom is somewhat of a scene stealer. The young hispanic beauty with a great presence on film goes by the name of Tia Texada, whom we all know is in the All That Glitters film. Everyone should see this film, and be assured that Tia is a great talent, and will contribute a lot to Mariah's movie. She's getting alot of attention, for the movie is an early oscar contender, as is Zeilweiger for the Actress trophy! Maybe Tia can squeeze in!
***
NYC writes about someone famous dissing Mariah, wazzap?
***
On MTV select today, Mel B was making fun of AAO!! She was co-hosting the show and was saying that it was an awful song. After they had shown the video, Mel B said that Max Beesley (her boyfriend) had said she was actually really nice. If Mariah ever finds out what Mel B was saying, I would love to witness their confrontation. Besides, have you heard Mel B's new song. TERRIBLE. The girl cannot sing. I thought Miss Lopez strained her voice, that aint nothing compared to Mel B. SCARY Spice indeed!!
***
Did anyone else see Mel B diss Mariah? That's not nice!
News from Germany:
***
we're honey & kate from "butterflies are free" and today we read in your news that you suppose mariah to be in ny and you asked if anyone knows more about it. well, we're pretty sure she's there shooting all that glitters and if not she was for sure becoz tommy (not sure if you know him, he made a support book for mariah in june and also gave her a fanbook at her miami concert) called us last night to tell us that mariah finally got the support book, and she just can get it when she's in ny! so, we just wanted to let ya know this!
***
Yes, Tommy gave the book to Mariahs limo driver, and he dropped it off at Mariahs new appartement in fact.
I sure hope you read Mariahs interview #3 with Erik Bradley today! Erik is a really nice person, and he mailed me again tonight replying to what I wrote him:
***
Anderz: Hi. Thank you very much for replying to my questions! We seem to share the same views on Mariahs music, both loving Butterfly and Rainbow. The church concert you mentioned was Mariahs fresh air benefitial concert that took place December 8, 1994 in Saint John's the Divine Cathedrale, New York. The concert raised $700.000 for the opganisation which later started Camp Mariah. Unfortunatly the concert was never released as an official Mariah homevideo, but if you see her you can tell her that all the fans would love to see it, I know it was recorded.

I am happy that you support Mariah so much and I hope it will continue in the future. Maybe I can mail you when I have any news on the new soundtrack, and hopefully you can mail me if you get any news? Thank you very much again for your replies, and you can read the interview with you at this location:

Erik: Yes, that is correct. It was a benefit for the Fresh Air Fund...it was just beautiful. And, it was recorded 'cuz I saw a highlight re-broadcast on MTV several months after. That was probably my favorite Mariah live moment 'cuz it was so intimate and special.
Thank YOU for your support of MC....I know she is appreciative (I've never met another artist who is so grateful to her fans!)
All the best,
ERIK
***
I got this nice mail from Vincent and the Mariah Shining Star site:
***
Usually, MCSS gives away an award for "Site of the Month", and a "A Touch Of Diamond" Awards. Well, ATOD hasnt been given out in a long time, and I thought to myself, well, Mariah's Diary, is more than enough to deserve this Award, but will they accept it due to the fact that so many other things go on your webpage! Well, I thought I would send you the improved version of the award, and if you want, you can post it up, or if not, thats fine. I just thought I would let you know that your site is appreciated!
***
Yes, thanx. And the award was nice too!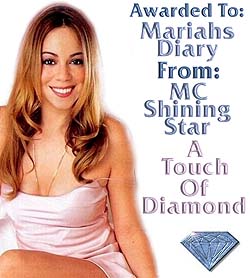 Amy mails me:
i dont know if you already know about this- but... Boyz II Men recently released a cd called "The Ballad Collection" and it features One Sweet Day in it and also some of Boyz II Men's greatest slow songs.
Shino mails me that you can see the video for Mariahs cool japanese Nescafe commersial at the Nescafe site.
Click HERE for the link.
For some reason I could not find it though, but I hope you will!